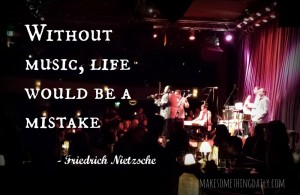 Last week I had the chance to go out with my husband and enjoy three of my favorite things: meeting interesting people, listening to great music, and trying new food. We started off the evening at Dimitriou's Jazz Alley (Seattle's venerable old jazz club that has seen all the greats over the years, and still gets all the big names in jazz) to see Orquesta Aragon, a Cuban jazz band that is celebrating it's 75th (!!) anniversary this year.
Every so often I crave a little escape from the routine of daily life, and one of the best escapes is to go out and listen to live music. I can get into anything from a big stadium show to a cheesy cover band at a bar, but my favorite type of venue is a club where you can really be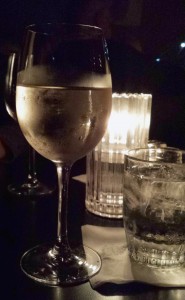 immersed in the music.  Sometimes creativity comes not from making something, or cooking or crafting, but getting swept up in someone else's creation. Those musicians were really swinging and I could tell how much they enjoyed playing, and listening and dancing along in that intimate room was great.
We were at the show with colleagues of Alvaro's and they were so pleasant and interesting. It's refreshing (especially as a stay-at-home mom) to talk with people outside my usual social circle (the 4 – 6 year-old crowd). We were enjoying the conversation and since we hadn't had much time to talk in between sets we decided to get something to eat after the show. We headed down to New Star Seafood Restaurant in the International District and ate way too much food but it was so good – we had won ton soup, shrimp fried rice, steamed bok choy with mushrooms and the best dish of the evening – geoduck.
Now if you're not from the Pacific Northwest you might not have ever heard of geoduck (it's pronounced gooey-duck) – it's a giant type of shellfish that looks kind of obscene when it's alive – and while I'd heard all about it I'd never had a chance to try it before. New Star prepared it steamed with vegetables and served it with a very spicy clear dipping sauce and it was So. Good. Sweet and just a bit briny, and I can't wait to try it again prepared another way (or even that same way again).  All in all it was one of those inspiring evenings where everything turns out just right and it managed to get the gears turning in my mind like they haven't been in awhile. Really magical.