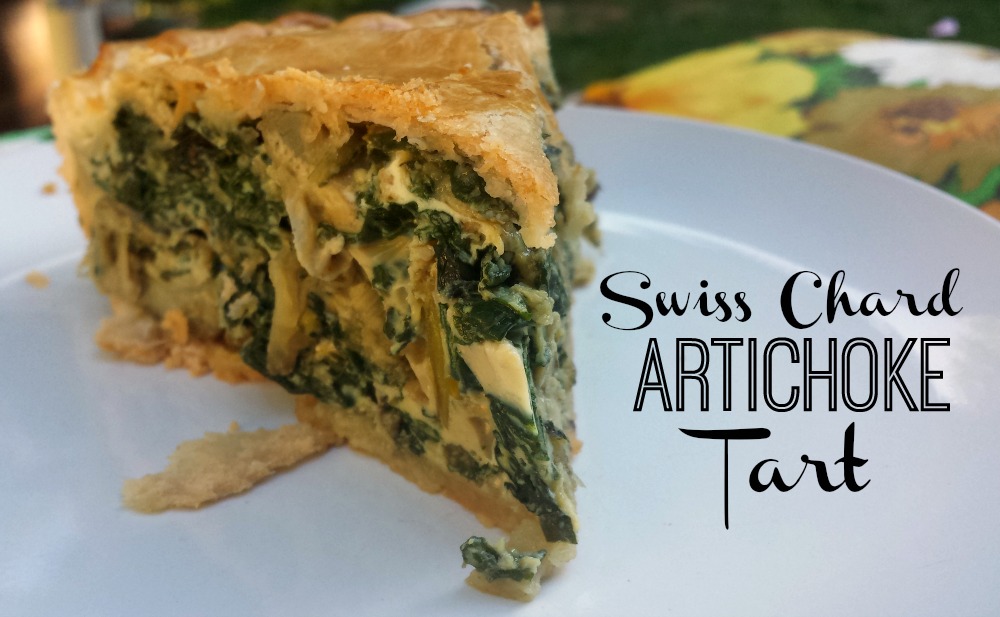 Savory tarts are some of my favorite things to eat – I love the combination of the rich crust, the flavorful vegetables, the filling egg and salty cheese. They're also versatile, so you can serve them for breakfast, lunch or dinner. In Peru there is a popular swiss chard tart made with whole eggs baked in the middle – this swiss chard artichoke tart is a variation on that with the egg mixed into the chard instead, and the addition of artichoke hearts.
Because I'm really trying hard to cook healthy food for my family, we end up eating a lot of simple grilled or baked meats or fish – my old standby dishes are often too loaded with fats and sugars to fit into our menu anymore. This tart tastes like a treat, but it's packed with leafy greens and protein so it's good for us too.
Swiss Chard and Artichoke Tart
serves 8
1 package prepared pie dough (2 sheets), or your own favorite dough recipe divided into two and rolled out into circles
1/2 cup yellow onion, chopped (about 1/2 medium onion)
20 oz Swiss Chard, chopped
10 oz Artichoke hearts, quartered (I like using the frozen kind so they have no added oil, but thaw them before using)
6 eggs
1/2 cup Gouda cheese, grated
1 TBS olive oil
1 tsp kosher salt
1/2 tsp black pepper
1. Heat the olive oil in a large pot or dutch oven over medium heat, add the onion and saute until the onion has begun to brown lightly.
2. Add the chard and stir occasionally for about 20 minutes, until it has softened and reduced in volume. (you might need to add it in two batches, depending on how big your pan is – if you do, let the first batch cook down some and then add the second).
3. Add the artichoke hearts and the salt and pepper and cook for about 5 minutes more, then remove the pot from the heat and let the mixture cool.
4. In a mixing bowl, lightly beat the 6 eggs and then add the grated cheese and stir to combine.
5. Line a 9″ pie plate with one of the dough circles and lightly prick the bottom of the crust with a fork.
6. Once the chard mixture is cool, add it to the egg mixture and fold the two together until they are mixed well, then put the filling into the pie crust.
7. Top the pie with the second crust, crimp the edges of the bottom and top crusts together and cut 4 slits in the top to let the filling vent.
8. Brush the top of the crust with milk or an egg wash to help it brown, then cook in a 425 degree oven for 30 minutes. Let the tart cool slightly before serving it – this tart is delicious hot, room temperature or even cold from the refrigerator.