This project is well-intentioned but boy is it slow. All this time and I'm just on the tenth book – that's kind of ridiculous. I've got this dead wood of not-great cookbooks hanging over me that I would like to pare from my collection, but I feel I should cook at least one thing from each before I do.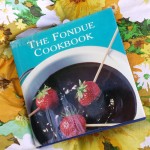 The thing is, there are cookbooks that have great, accessible recipes, and there are cookbooks that have luscious, aspirational photographs and head notes, and a few treasured cookbooks have both. Then there are the cookbooks that might not be so great but they're meaningful in some way (for instance I like to bring back a cookbook as a souvenir when I travel), and the books that are family heirlooms. Another group of cookbooks are the workhorses of the collection – the reference and technique books and the general books that get turned to over and over again. Finally, there's a large group of books that have marginal recipes, poor illustrations and uninspired writing. These are my bane! These are the books that I want to toss into the recycle bin (or at least the donation box at the local library).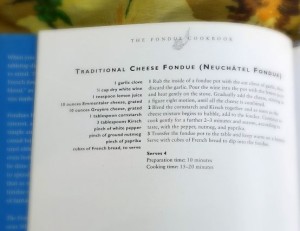 The Fondue Cookbook, however, is not one of those dreary books. This book is a specialty book for sure – we got it as a wedding gift along with a fondue pot (and no I was not married in the 70's, surprisingly) – and it is full of fondue recipes and nothing else. The very first recipe, for traditional cheese fondue, is a solid recipe that gives great results. This is my go-to cheese fondue recipe, and when my daughter asked if we could have fondue the other day, it's the one I turned to. Later this month I've promised the kids we'll make chocolate fondue, and I'm sure I'll turn to this book again.